PM² & Competency Development for Project Management – Serbia's Public Sector
09 Jun

 Competency Development for Project Management in Public Sector
The training in project management for employees of the Ministry of Finance, the Customs Administration and the Treasury Administration of the Republic of Serbia has commenced, as part of the project which is funded by the Deutsche Gesellschaft für Internationale Zusammenarbeit (GIZ) GmbH, and implemented by IPMA Serbia experts.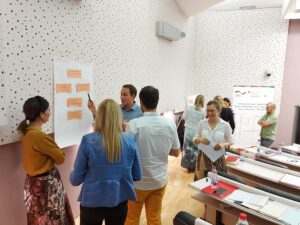 The first training program, which is conducted in June, July, and August 2022, is intended to introduce participants to the PM² methodology, which is recommended by the European Commission for managing projects in public administration and promoted by IPMA Serbia. 
During the project, participants will have the opportunity to attend lectures and workshops, and through individual and mentoring work, to systematize and improve their knowledge of project management; to gain knowledge and skills in the application of PM² methods, techniques, and tools; and to develop the individual, team, and organizational capacity to manage complex projects.
In order to sustain this initiative, a Training of Trainers program for the same group of participants will be organized at the beginning of July, while training on software tools for project management will be conducted by the end of August.
This project represents a significant step forward in the development of project management capacities in the public administration of the Republic of Serbia.
See also: