PM² for EU funds by the European Commission – Jean Monnet Module Awarded
Enhancing PM² Skills & Competencies for EU Funded Projects
The PM² Alliance supports this important initiative and will share its network's resources and knowhow, as well as its communication reach to promote the effective use of the PM² Methodology in EU Funded projects of both direct and indirect funding.
The interdisciplinary and European orientation of this initiative, will further expand the European PM² University and Academic network, and establishing a deeper cooperation between the PM² Alliance and the EU Funded projects community.
Professor Danijela Ciric Lalic – University of Novi Sad
"Higher education institutions play an essential role in every society as a catalyst of change and a vehicle for human progress and innovation.

Project Management and PM² can significantly contribute towards achieving this goal. And this is why it is necessary to strategically position and promote PM² in this context, both at a European level but also globally.
Jean Monnet Modules are short teaching programmes or courses in the field of EU studies at a higher education institution, focusing on one particular discipline or multidisciplinary approach. They must bring innovative, exciting and specific EU content to their learners; while disseminating and exploiting the results of the organised teaching and research activities beyond the scope of the stakeholders directly involved.

The awarded PM²4EUfunds Module is designed as an interdisciplinary set of lectures, practical classes, training and outreach activities aimed to bring the European PM² Methodology and its benefits closer to its broader stakeholders and potential user community.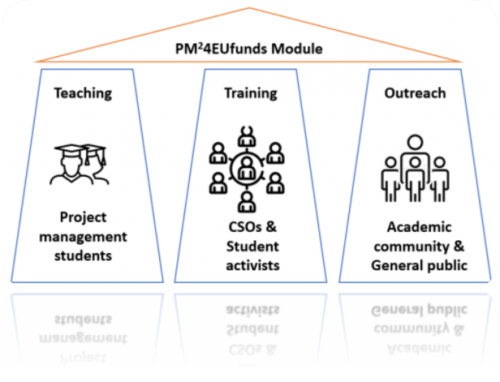 The three pillars of PM²4EUfunds Module
The general objective of the PM²4EUfunds Module is to sustainably promote excellence in the management of EU-funded projects by introducing European PM² Methodology through teaching, training and outreach activities aimed at students, civil society organizations (CSOs) & student activists and the broad academic community. Furthermore, the Module seeks to increase the awareness, knowledge, and skills for successful, cost-effective preparation of a funding proposal and develop management capabilities for implementing EU-funded projects – towards common values of the European Union.
To achieve this goal, over the next three years, the PM²4EUfunds Module will adopt an interdisciplinary approach, focusing on raising the level of awareness of the importance of excellence in the management of EU-funded projects by introducing PM² Methodology, interpreting the significance of (inter)national project landscape for EU integration process, facilitating improved accountability, transparency, communication and collaboration in EU projects undertaken within and across organisations, identifying and contextualising dynamic issues from a pedagogical and research perspective, designing multidimensional, and innovative teaching and research processes, as well as disseminating project results to different user groups.
Envisaged teaching activities will be designed for future project management professionals – undergraduate engineering students enrolled in project management study groups at the Faculty of Technical Sciences, University of Novi Sad.
Envisaged training will be designed for the CSOs & student activists from all fields, that will have the opportunity to collaborate with various experts across organisations.
Virtual panel discussions will welcome experts from all around Europe and from diverse fields for (various institutions, public administration, and PM² practitioners) to share their personal experiences in managing EU-funded projects and using the PM² Methodology.
By applying innovative teaching and training strategies, students and other learners would learn to comprehend and use the unique potential of the PM² Methodology in supporting the excellence in managing EU-funded projects.
Helping Europe Succeed. One project at a time!
We are happy to participate in an EU funded project that aims to build a community of EU project managers and enabling them to share knowledge and experiences and fostering an appreciation of PM² as a common, open and free methodology for Europe.
Nicos Kourounakis
PM² Alliance President
The time has come for ALL EU Funded projects to be managed with a common and effective project management methodology. 
The PM² Alliance helps its member organisations and stakeholders to integrate the PM² best practices in the initiating, planning and monitoring of their high impact EU and Member States funded projects.