PfM² Methodology Masterclass in Organisational Portfolio Management at the PMI Forum 2022
07/12/2022
by
PM² Foundation
in Conference, Events, Our News
Portfolio Management Made Simple:
Nov 7, 2022 - MasterClass
The PfM² MasterClass on Organisational Portfolio Management was designed to help participants learn more about portfolio management and help them understand how they can incorporate the PfM² Portfolio Management best practices into their organisation.
The MasterClass presented the portfolio management processes, governance, artefacts and techniques aiming at helping participants start their integration into the organization's management culture while preparing them to set-up their first portfolios.
Participants learned important Portfolio Management concepts and appreciated the benefits of developing a portfolio orientation and mindset. Participants also learned how to:
differentiate portfolio management from multi-project management
become familiar with the PfM² Governance model and its roles, responsibilities, processes, templates and mindsets.
understand portfolio composition and realisation techniques with a reference to ROI, risk, time frame, resource demand, resource capacity and capabilities.
effectively organize portfolios, understand their life cycle, link realistic objectives to organisational needs and apply effective portfolio monitoring and evaluation policies.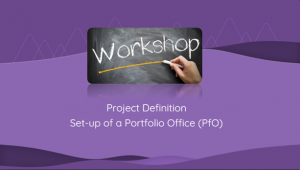 With the completion of this MasterClass, participants are a position to start implementing the PfM² Portfolio Management best practices, tools and techniques and be more effective at being part of a portfolio management team.
The MasterClass was delivered by Nicos Kourounakis, who is the Co-Author of the PM² Guide and the Author of the PfM² Methodology Guide for Portfolio Management. 
MasterClass Agenda:
Selling the Case for Portfolio Management
The Role of the Portfolio Support Office (PfSO)
Initiating a Portfolio (the Portfolio Handbook)
Governance – Portfolio Roles & Responsibilities
Portfolio Management Processes:
Portfolio Framework Definition
Portfolio Composition
Portfolio Realisation
Monitoring & Controlling
Stakeholder Engagement & Communication
6. Portfolio Reporting (the Portfolio Composition & Analysis Report)
Learning resources: https://pfm2.website/